Microsoft Latin America President Coming To Campus

The Global Business Initiative (GBI) had an eventful end to 2018 with the Global Sustainability and Business Summit hosted at National Geographic's headquarters in Washington, D.C. The panel convened executives across industries who shared sustainability efforts currently being implemented within their organizations, as well as the challenges they foresee in the near future. Approximately 300 Georgetown University alumni, students, and university leaders participated in the event, as well as Global Business Advisory Board members, who were provided with the opportunity to network with the panelists.

Together with the MBA Program Office, the Global Business Initiative created the International Treks (ITreks) Committee, which provides operational guidelines for career and service treks proposed by our students. This included the creation of an intranet site for our MBA students to submit their applications, as well as a dedicated ITreks page to showcase our students' initiatives, which in the last two months have taken them to Colombia and Israel. Also, the Committee would like to recognize McDonough's MBA Alumni Advisory Council (MAAC), for providing financial support for some of the recent student trips.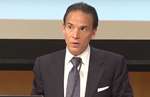 Sincerely,
Ricardo Ernst, Ph.D.
Baratta Chair in Global Business; Director, Global Business Initiative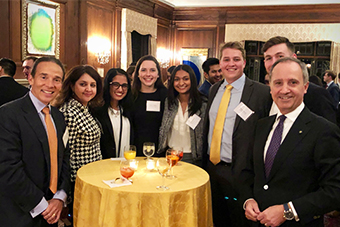 D.C. Embassy Series: Reception At Italian Ambassador's Residence
In January, a group of students and alumni joined Ambassador of Italy to the United States Armando Varricchio and the Global Business Initative at the Ambassador's residence, Villa Firenze, for a dinner and a conversation on U.S. – Italy ties, global business, and leadership.

Created in 2015, the Embassy Series aims to offer international perspectives on global issues and cultural enrichment in combination with networking and university engagement.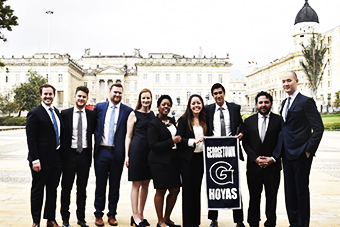 MBA Students Meet With Political And Business Leaders in Bogota, Colombia
Earlier this month, 12 MBA students traveled to Bogota, Colombia, for meetings with the country's various political and business leaders to discuss the region's most pressing opportunities and issues.

The student group visited Presidencial Palace "Palacio de Nariño," PAE Asset Management, and campus for startups HubBOG, among others. Matthew Allgeier (MBA'19) and Ximena Gonzalez Rojas (MBA'19) organized the trek.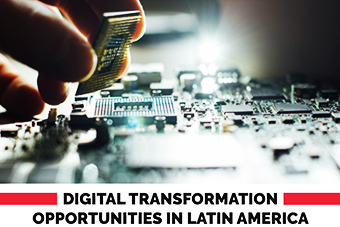 Feb.22: A Conversation With Microsoft Latin America President, Cesar Cernuda
Join the Global Business Initiative, the Latin America Leadership Program and the Center for Latin American Studies for a conversation on "Digital Transformation Opportunities in Latin America." The event will feature Cesar Cernuda, president of Microsoft Latin America and corporate vice president of Microsoft Corporation.

Where: Georgetown McDonough, Fisher Colloquium (4th floor)
Date: Friday, Feb. 22
Time: 10:30 a.m.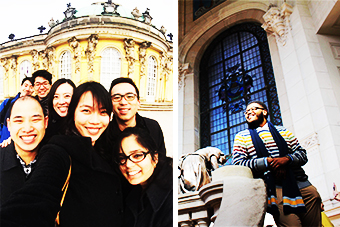 March: The Global Business Experience Instagram Photo Contest
Next month, over 370 MBA Full-time and undergraduate students will be traveling abroad for their Global Business Experience. Students will have the opportunity to share the best pictures of their global journey through the Global Instagram Photo Contest.

Where: Globally, from 10 countries (Argentina, China, France, Germany, Ghana, India, Mexico, South Korea, Spain, and United Arab Emirates)
Date: Early March
Submissions: Instagram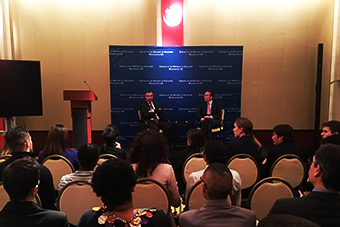 Students Discuss The Global Economy With Singapore's Ambassador To The United States
Ashok Kumar Mirpuri, Singapore's ambassador to the United States, hosted Master of Arts in International Business and Policy (MA-IBP) students at the Singaporean embassy in Washington, D.C. Mirpuri discussed Singapore's economic and diplomatic trajectory, as well as its current and future challenges.

The ambassador talked about the country's economic success as the result of government policies to attract multinationals to invest in Singapore, and how the country has become a destination for global companies exploring opportunities to establish their Asia headquarters.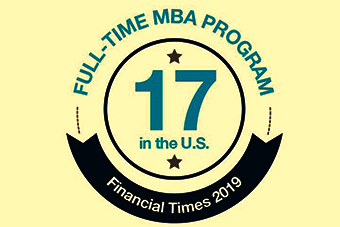 Global Focus Helps MBA Program Achieve High Marks In Financial Times Rankings
In the latest Financial Times Global MBA Ranking, Georgetown McDonough's Full-time MBA program is 17th in the United States and 29th in the world, thanks to high marks in alumni success metrics, its global focus, and incorporation of corporate social responsibility themes in core courses.

In the ranking's measurement of international experience, Georgetown McDonough ranks 3rd in the United States behind only Yale and Dartmouth – due in large part to its required Global Business Experience and expanding portfolio of international career treks.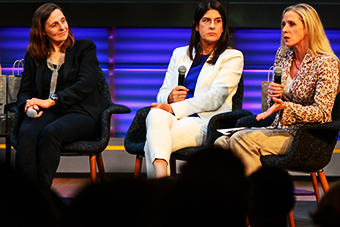 Executives From Five Major Corporations Convene At Global Sustainability Summit
Executives from five major corporations discussed how they are implementing sustainability efforts at a global summit held at National Geographic's headquarters in Washington, D.C. Panelists included Sean Cady, vice president of global supply chain and responsible sourcing, VF Corporation; Susan Kolodziejczyk, senior manager of sustainability, National Geographic; Rachel Sylvan, director of sustainability and corporate responsibility, Sodexo; Ann Tracy, vice president of sustainability and supply chain strategy, Colgate-Palmolive; and Johanna Nesseth Tuttle, manager of development and public policy, Chevron.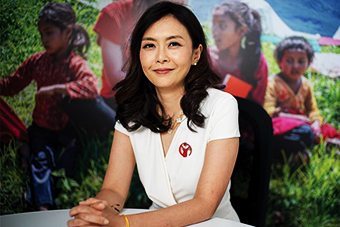 A Desire To Create Impact Led Alumna To A Career Helping Indigent Children
After two decades of working in financial services in the United States and in her native Hong Kong, Amy Fong (B'92) felt something was missing. "I always wanted to do something meaningful and impactful," said Fong. She found fulfillment when she left the world of finance in 2015 and started a new career as CEO of Save the Children Hong Kong.

"It is a very inspiring organization," she said. "I thought, if I want to change my path from banking to a different sector and have more impact in society and the world, Save the Children is the best place to be."