Sustainability Summit at National Geographic

The Global Business Initiative and the Office of Alumni and External Relations are excited to announce our summit on sustainability at National Geographic D.C. headquarters Nov. 8. The panel will convene executives across industries who will share sustainability efforts currrently being implemented in their organizations, as well as the challenges they foresee in the near future.

Last summer after visiting four countries in three continents, including Shanghai and Lima, over 160 Evening MBA students presented their findings to client organizations as part of their Global Business Experience. Featured in this newsletter is a group of students who travelled to the Peruvian jungle to assess the operations of their consulting client.

Our students continue to embrace and organize their own global opportunities by embarking on the first service treks in Colombia and by hosting global leaders, such as Alessandro Bogliolo, CEO, Tiffany & Co., on campus.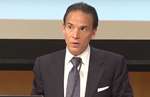 Sincerely,
Ricardo Ernst, Ph.D.
Baratta Chair in Global Business; Director, Global Business Initiative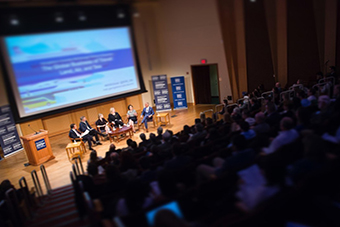 Nov. 8: Global Sustainability Summit at National Geographic
Join the Global Business Initiative at National Geographic for a conversation on "Global Sustinability and Business." The summit will feature sustainability experts from Chevron, Colgate-Palmolive, National Geographic, Sodexo, and VF Corporation.

Where: Grosvenor Auditorium (1600 M St. NW, Washington, D.C.)
Date: Thursday, Nov. 8
Time: 6:30 p.m.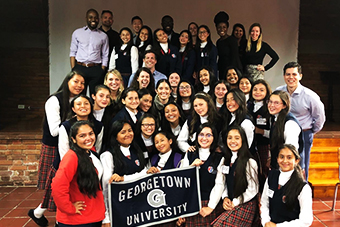 MBA Student Groups Organize First Service Trek to Bogota, Colombia
Over the fall break, 14 MBA students traveled to Bogota, Colombia, and partnered with two non-profits, Colegio Integral Femenino and Mentors4U Colombia, to provide workshops and strategic planning advice to students and local organizations.

The Student Government Association (SGA) and the Evening Student Government Association (ESGA) organized the service and cultural experience.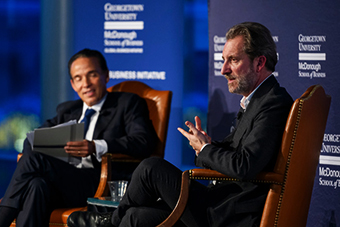 Tiffany & Co. CEO Shares Career Journey with Student Community
Alessandro Bogliolo, CEO, Tiffany & Co., discussed his career journey with more than 200 students at Georgetown McDonough during an event hosted by the Georgetown Retail & Luxury Association (GRLA) and the Global Business Initiative.

Bogliolo shared valuable advice on how to become a successful global leader.

"Be a citizen of the world. To know a place you must live there, study, or work abroad," he said. "You must experience the beauty and the challenges of a place that nobody can teach you. The world is full of global opportunities."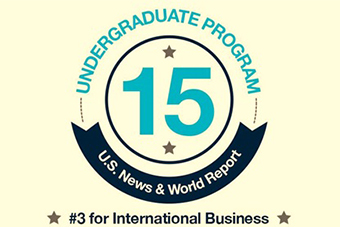 Undergraduate Program Ranked No. 3 for International Business
U.S. News & World Report has listed the Undergraduate Program at Georgetown's McDonough School of Business 15th overall for the fourth consecutive year and 3rd for international business, up from 4th last year.

"With the success of our students as our goal, we have developed a curriculum that integrates technology and teaches the fundamentals of business with a focus on principled leadership, global experiences, and care for others," said Patricia Grant, senior associate dean for the Undergraduate Program.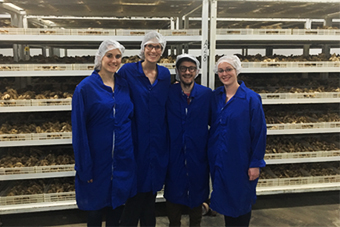 MBA Students Travel To Peruvian Jungle To Consult For Organic Produce Distributor
La Grama is an organic produce distributor that works with smallholder farmers in Peru to implement organic farming techniques and to bring the products, primarily ginger and avocado, to international markets. A group of Evening MBA students focused on analyzing a bottleneck in the expansion of La Grama's operations as part of the Global Business Experience course.

"The subject of organic produce for international markets aligns with my career goals, and the company we consulted for was located in a part of the world I had yet to explore," said Ali Woodruff (MBA'19).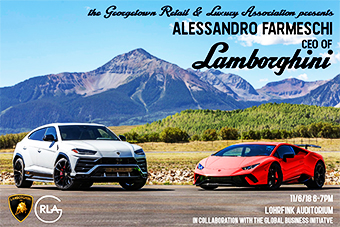 Nov. 6: Lamborghini Americas CEO Coming to Georgetown McDonough
Join the Georgetown Retail & Luxury Association for a conversation with Alessandro Farmeschi, Americas CEO, Lamborghini, on "We are not supercars – we are Lamborghini. The past, present, and future of a luxury car maker."

Farmeschi has been in charge of the operations for the Americas since Apr. 1, 2014. In this role, Farmeschi has overall responsibility for the company's sales, marketing, and after-sales operations in North and South America.

Where: Lohrfink Auditorium, Georgetown University's McDonough School of Business
Date: Tuesday, Nov. 6
Time: 6 p.m.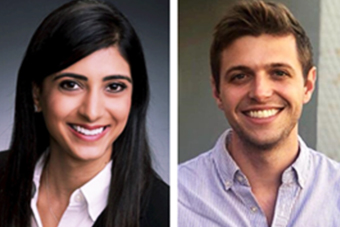 Internship Spotlight: Students Support
K-12 Global Education and Indian Companies
Tyler Walton (MBA'19) interned for HundrED, a Finnish nonprofit that shares inspiring innovations in K-12 education.

"I chose HundrED because it's important for me to see what innovators are doing in education, from classroom-based innovations to policy-related solutions," said Walton.

Sarika Patel (MSF'19) and a group of her classmates partnered with a venture capital firm to set up a fund of Indian startup companies that aim to have a social impact in education, technology, and health care.

"I chose the venture capital project because I thought it could offer me the most growth in terms of financial analysis that I have not experienced," said Patel.